Are you going crazy trying to figure out some of those obscure 80s tunes from season 2 of Netflix's GLOW? The female wrestling dark comedy has become a time machine for people with its authentic 80s homages, fashion, and music.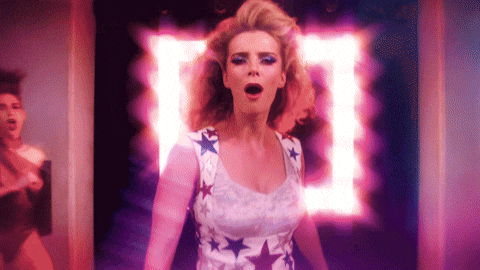 Check out the full list of songs featured in season 2 of GLOW:
"You May Be Right," Billy Joel
"Just Like Honey," The Jesus And Mary Chain
"It's Like That," Run DMC
​"Sweat," System
"Nobody Thrills Me," DB Night
"Situation," Yazoo
"Baby You Got It," Brenton Wood
"You're All I Need To Get By," Aretha Franklin 
"Small Town Boy," Bronski Beat
"I Know What Boys Like," The Waitresses
"I'll Walk Alone," The Pills
"Far From Over," Frank Stallone
"You Make My Dreams Come True," Hall & Oates
"Destination Unknown," Missing Persons
"Kyrie," Mister Mister
"Don't You Want Me," Human League
"Crazy For You," Madonna
"Man on the Corner," Genesis
"Stop the Music," Robby D. feat. Heli Sterner
"Nothing's Gonna Stop Us Now," Starship
Series music supervisor Bruce Gilbert perfectly implements each song into key moments of the series, further fueling the emotional impact of a scene with a well-placed tune.
"I think that there are opportunities to use songs that in some cases would seem sort of trite or light, and in this case … I think it deepened the sort of punctuating moment of the episode," said Gilbert.