Wait what? Jon Bernthal, who got his start on AMC The Walking Dead, is returning to the show to reprise his character, Shane.
But Shane is dead…right?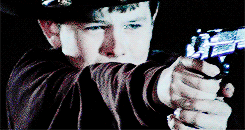 When last we saw Shane in season 2, Carl (also dead on the show…don't get me started on that one) shot a zombified version of him after Rick had stabbed Shane to death.
Speculation about Bernthal's return gathered steam over the weekend when a fan spotted him hanging out with fellow Walking Dead cast members near the series' Georgia set (scroll down to view the evidence). His comeback also coincides with (unconfirmed) rumblings that Lincoln will depart the AMC hit during Season 9, allegedly after appearing in only a half-dozen episodes. To compensate for the possible loss of its leading man, AMC is reportedly looking to give Norman Reedus (Daryl) a "substantial" pay boost to stick around.
In addition, The Walking Dead is bracing for the potential departure of Lauren Cohan (Maggie), who will segue to ABC's Whiskey Cavalier after appearing in a handful of Season 9 episodes.
What do you think? Are you excited to see Shane return?